We specialize in offering natural mahogany hair color to the hair lovers of the world. Mahogany Brown, made of finest quality henna leaves and natural oils ingredients, have excellent dyeing properties that give natural conditioning and shine to your hair. This product is a unified consequence of our unbeatable quality infrastructure and extensive research.
About the color Mahogany Brown
Mahogany is a reddish brown color. It is less red than henna red and is suitable for brown hair and adds red effect to brown color. It possess a fixed portion of Vitamin E to protect against dryness.
Advantages
It has nutritious protective softeners and gives you 100% mahogany brown coverage that gives a lasting, rich, healthy hair color. This exclusive formula permits color and highlights to be found with over-the-top results, while esteeming the physiological structure and wellness of the hair.
Ingredients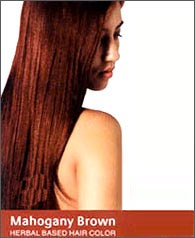 Brahmi
Amla (Emblica Officinalis)
Henna (Lawsonia Inermus )
Citric Acid
Bhringraj
Features of Mahogany Brown Color
Mahogany brown color strengthens the roots of hair.
It helps to make hair dark, dense and lustrous.
Our product supplies a deep shiny glow and silky look after washing.
It also works as a conditioner for the hair.
Helps in controlling dandruff.
Mahogany brown is dermatologically tested, it does not result in any skin irritations.
It beautifies hair and cure numerous hair ailments.
Mahogany brown is a good nourisher also.
Why us?
Finest Packing
All products are PH balanced
No Ammonia, no Hydrogen Peroxide
Natural conditioner
No side effects
Very economical price
How to Apply Hair Color?
Put the colorant or coloring powder in a plastic container and add approx. 35 cc. or 6-7 tablespoons of water in it to prepare a paste. Ensure that the paste is thick enough to be comfortably applied on the hair. Apply this paste on hair with the help of a brush. For the paste to reach the hair roots, it is necessary to comb the hair after five minutes of the application of the paste. If you observe any white hair or hairs, apply more paste on that particular portion of your head. Ensure that no portion is left unpasted. Rinse your hair thoroughly after 30 minutes of application. Later wash your hair with soap or shampoo, whichever is convenient for you.
Tests Required
Following are the primary tests done to check the reliability and authenticity of henna/hair colors. These tests also help to determine whether a color is suitable for a particular type of skin or not.
Strand Test: This test is called the strand test because it is conducted upon few single hair (usually gray hairs) also called strand. To conduct the strand test, first of all, prepare a small quantity of the henna/hair color mixture and apply it on some selected gray or white hairs of yours. Leave it to dry for 30 minutes. After half an hour wash your hair (on which the color was applied) with clean water. If you are checking the colorant for a darker shade then you may leave it for more than 30 minutes while testing.


Hypersensitivity Test: The name hypersensitivity test is derived from the word hypersensitive which means excessive physical sensitivity to a particular drug, substance or hair color. The purpose behind the strand test and hypersensitivity test is almost the same, except that the strand test is conducted to ascertain the effect of henna/hair color on a person's hair while the hypersensitivity test is carried out to see its effect on a person's skin.

To conduct the hypersensitivity test, first of all, mix a little quantity of the henna/hair color in a bowl or glass. Left it for some time. In the meanwhile, wash a small area behind your ear using a soap and dry it with a towel. Now, apply the prepared colorant on this cleaned portion of skin. Allow it to dry. After 24 hours, wash this patch of color applied on the skin with soap. If no reddening or rashes were there and you experience no irritation, inflammation or burning sensation, it means that the color can be safely used.
Safety Instructions
Safety is the primacy everywhere; so is the case with henna/hair colors. You must be very careful while using these colorants. The following guidelines will certainly assist you in doing the job of coloring the hair safely:
Don't expose the colorant to direct sunlight. Better put it in a dark place.
Don't open the color packet unless it is to be immediately used thereafter.
Make sure that you mix the color in a plastic or glass bowl, rather than a metal bowl.
The color paste should be applied on the hair with the help of an application brush and not with hands.
Do not add any foreign material in the color unless it is written on the box or packaging of the color to do so.
It is suggested that the pregnant women use only herbal henna, if they want to color their hair. The reason is that the synthetic hair colors contains certain chemicals, hence not considered good to be used during pregnancy.
Don't try to color your eyelashes with the hair color, as it may harm your eyes. If the color enters the eyes by mistake, rinse the same with fresh water immediately.
Packaging
We offer our herbal hair colors in 10gm sachets for retailers. Each pack contain 4/5/6 sachets. For bulk packing , as per International standards, each box may contain 600 sachets. Hence number of packs in one box may vary upon the number of sachets in 1 pack.
Testimonial
"Mahogany brown renders a maximum color insight leaving in perfect coverage and long lasting continuance. The low ammonia substance, together with the highly protective ingredients, allow optimum protective covering and nourishment to the hair during the coloring process, imparting a healthy and luminous effect to the hairs."

-Ishita, Ludhiana