The procedure of changing a hair color of a person is known as Hair Coloring. Hair Coloring can be permanent or temporary and the lasting effects are determined, in part, by the texture of the individual's hair. The use of chemical lighteners, such as "Bleach", is one way hair is lightened or "highlighted."
Hair color is the result of pigmentation due to some pigments. There are two types of pigment that give hair its color: Eumelanin & Phaeomelanin, Eumelanin is black and brown while phaeomelanin is red.
Hair Color Formula
Virgin Hair: Underlying Pigment + Artificial Pigments = Final Result
Previously Colored Hair: Underlying Pigment of Regrowth + Existing Artificial Pigments + Artificial Pigments in New Color = Final Result
There are two steps to follow:
Step One:
Know your natural haircolor level. According to an international system, firstly identify the level of darkness of your hair, 1 being the darkest (black) and 10 being the lightest (blonde). Match your hair to the hair color that most closely resembles the darkness of your haircolor. See examples of different shades in our hair color picture galleries.
Step Two:
Know your underlying pigment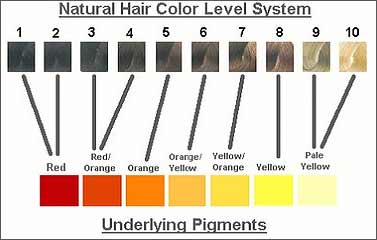 Color Types
Permanent Hair Color
Permanent hair color, as the name suggests, makes a permanent change in the pigment of the hair shaft. It does not wash out, providing a very good long-lasting. Its effect will pass off with time, but cannot be simply got rid of to "bring back" the natural color. All hair that has been colored in this way has the natural color pigments irreversibly chemically modified.
This hair color is also cognized as cosmetics color, oxidation color, dye, tint, professional color, global color or crème color. It bears some special features like :
It is an oxidative permanent hair color with cosmetic component.
Results of this hair colors are permanent.
It can lighten or darken upto three levels.
Temporary Hair Color
It is a single modification to enhance color by adding tone, shines and blends. Temporary hair color usually lasts from shampoo to shampoo and provides a deposition only outside the hairs. It cannot brighten hairs.
Single Process Color
Single process means that the color is elevated and fixed in a single step. This color is the only permanent color which is mostly sought by the unskilled individual.
Semi Permanent Hair Color
Semi-permanent color is what the name suggest. It can cover gray and become darker, but can not lighten. The lasting of this product differs depending upon the quality of product. It is also known as vegetable, organic, conditioning, direct, semi, natural, shine, blending, camouflage.
Double Process (bleaching and toning to the desired color) should never be attempted at home. Semi-permanent hair color is beneficial in imparting shine, color, depth to natural or colored hairs. It blends and glosses upto 30% of white hairs and lasts upto 10 washes. It cannot lighten up hairs. They can blend in gray-haired and may turn permanent to previously waved or colored hair.
Demi Permanent Hair Color
This hair color is best for raising shine and is entirely free from ammonium hydroxide which gives glittering appearance. It is relatively long-lasting and step by step fades to leave a tonic re-growth. It is capable to lighten up to 1.5 levels.
Direct Semi-Permanent Hair Color
This hair color is similar to semi hair color. It is also known as vegetable, shine, blending, organic, conditioning, direct, semi, natural, camouflage. It adds shine, color and depth to natural or colored hair. Direct semi permanent hair color blends and colors upto 30% of white hairs. It lasts upto 10 shampoos and cannot lighten hairs.
Send Enquiry