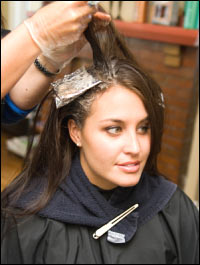 Coloring is a mixed combination of art and a science. For a glamorous effect, a proficient hair dresser always applies some special techniques which are as follows:
Twilighting: If a person wants a lighter hair color to picture an elusive change, twilighting is the best option. Twilighting tones down too-bright hair colors by adding a few darker tones. Twilights are intimately associated to lowlights.


Lowlights: This is a coloring technique that adds real depth to hair color. Low lights also add darker tones and soften the appearance of over-lightened hair or add volume to hair that looks flat. An experienced hairstylist can wind up to different colors into your hair by drawing a few strands here and there through a weave cap for a subtle look or foiling chunks of your hair for a striking, voguish feeling.


Highlights: Highlight probably is the first inventions in hair coloring which add brighteness and shine. Highlights function most effectively in warm tinctures of gold, honey, amber, and reds and can be implemented on permanent hair.


Veiling: This helps to brightens and enhances former flat hair color by enforcing a semi-permanent glaze in a richer tone over a permanent shade.


Chunking: This is a hair coloring proficiency that contributes striking affect to any hairstyle, often by imparting bright, trendy colors to natural hair color. It takes large, random divisions of hair and inculcates them with fresh color.


Underlight: This is the technique to apply color around the perimeter of the hair to create strength and softness. The whole head of hair is colored.


Block: It is the process of coloring back to back slices of hairs for bold color placement.


Partial techniques: Parts of hair are colored often with one than one shade to create effects.


Symbio blow dry: It is a special technique that adds an unbeatable shine and a touch of color. The hair dresser add this on to the blow dry for a perfect finish.


Global coverage: All hairs of head are covered throughout.
Hair Coloring Technique Processes
The above coloring techniques require some specific process which are listed below:

Weave caps:
This process is used most often in twilighting, highlighting and low lighting. The stylist draws small strands through holes in the weave cap. The effect is commonly a subtle change that heightens your hair color. Highlighting with a weave cap also helps to disguise gray or roots growing back after a permanent application of hair color.
Foiling:
This includes the placement of a sections of hair onto rectangular sheets of foil and application of color or lightener. Then folding the foil to hold the color in position and away from other sections. Of all highlighting techniques, foiling is applicable closest to the root.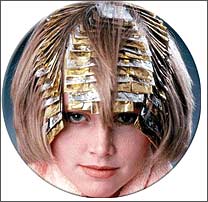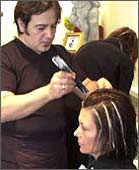 Baliage:
This process is a great application for textured, natural loops, or wavy hair. The hair-dresser selects a particular area and color it. This dramatic implementation of a coloring technique leaves you with a very "personal" visual aspect.
It's significant to note that although kits are available for most all hair coloring techniques, professional hairdressers have the knowledge that comes with experience. It is good to refer a professional before trying a new hair color technique at home, especially for hard to color shades like gray, platinum, and black hair!
Send Enquiry